Hey guys! Welcome back to Becoming Bookish! Today we are going to be talking about something SO SUPER EXCITING! I was chosen to participate in the Release Day Blitz for Ally Condie's (Author of Matched, you have probably heard of it.) new middle grade contemporary Summerlost!
So basically today we are going to get PUMPED that this beautiful book is out there in the world TODAY!
So. First things first. The book!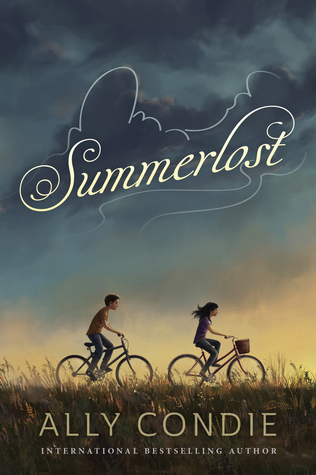 It's the first real summer since the devastating accident that killed Cedar's father and younger brother, Ben. But now Cedar and what's left of her family are returning to the town of Iron Creek for the summer. They're just settling into their new house when a boy named Leo, dressed in costume, rides by on his bike. Intrigued, Cedar follows him to the renowned Summerlost theatre festival. Soon, she not only has a new friend in Leo and a job working concessions at the festival, she finds herself surrounded by mystery. The mystery of the tragic, too-short life of the Hollywood actress who haunts the halls of Summerlost. And the mystery of the strange gifts that keep appearing for Cedar.
Infused with emotion and rich with understanding, Summerlost is the touching middle grade debut from Ally Condie, the international bestselling author of the Matched series, that highlights the strength of family and personal resilience in the face of tragedy.
Doesn't that sound AMAZING? Yes. The answer is yes, it sounds amazing. Obviously, Ally Condie is an amazing writer, it's clear from the starred reviews, legions of fans, and all of the people tripping over their words to be a part of release day blitz. (me.) And today we have had her write even more wonderful words just for us!
Here is the super special, super incredible letter that Ally Condie would like for all of her readers to, well, read!:
Dear Readers,
I think most of us have had our hearts broken. Sometimes we can see it coming, and sometimes it comes down with the unexpected force of a sudden gale of wind or a rising of waters that we thought were still and safe. Loss is universal to human experience, but the way we each feel and recover is one of the most personal things we do.
In Summerlost, Cedar is dealing with the loss of her father and younger brother. And my intent was to show how hard their deaths are for her. But this is also a book about the healing power of friendship. Most of us have been broken-hearted; I hope that most of us have also discovered the miracle of friendships that were just what we needed. Cedar and Leo's friendship is based on someone I met when I was twelve. Like Leo, my friend was fun and liked to enlist me in crazy adventures (although we never gave a secret guided tour of our town the way they do in Summerlost). And, like Leo, he thought I was wonderful and of worth at a time when I needed it most.
SUMMERLOST is my attempt to pay tribute both to the pain we feel and the friendships that save us. Thank you so much for supporting this book, and for your willingness to give Cedar's story a try. I hope it makes you think of a wonderful friend of your own, whether that is someone you met in the pages of a favorite book or outside, in the world where it is often hard and beautiful to live.
Best wishes and happy reading always,
Ally Condie
That was truly a beautifully written letter! I am so excited to read Summerlost! And you better be, too!
If by some cruel miracle you aren't, try reading this excerpt! It will make you want to read it. Trust me. (if widget is not showing up, click here to read the excerpt.)
*Slow claps*
Now by this point, you are probably wondering where you can buy this book because REASONS. Well, I happened to have answer to that question! Here are some places that you can get this book from:
OOOOORRRR…YOU COULD ENTER THIS GIVEAWAY! That's right! You heard right! Penguin Young Readers has provided me with a link so that one of you guys can win the ULTIMATE Ally Condie prize pack! The winner will receive the following: 5 finished copies of SUMMERLOST, paperback copy of ATLANTIA, copy of book one of MATCHED. Cool, right? I know I had to enter! For real though.
And as always here on Becoming Bookish, be sure to check this book out on Goodreads!
Okay, I think that's it! Thank you SO much to penguin young readers for reaching out to me and for letting me be a part of this wonderful release. I hope that I have done everything right and this post will officially go down in history in Becoming Bookish as my first (kind of) blog tour type post! Also, I was not born an advertiser or salesperson, so if some of those segways are incredible cheesy, I apologize, hehe.
Thank you to Penguin and Word Spelunking for hosting this event and I had a ton of fun! Be sure to enter the giveaway, buy the book, and read that excerpt! Thank you to all of the other bloggers participating in this release day blitz!
That is it for today's post and I will see you with a new post soon! Don't forget to check out my social media, give this post a like, share, and follow my blog by email (as it does help to do more amazing things like this!) leave a comment down below telling me about your excitement for Ally's new book AND DON'T FORGET TO BUY SUMMERLOST!
See YA!
~Jamie