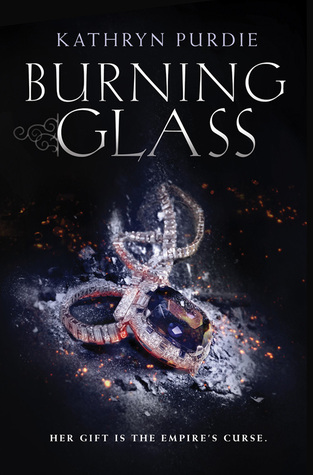 *SPOILERS ARE MARKED*
Description (from Goodreads):
Sonya was born with the rare gift to feel what those around her feel—both physically and emotionally—a gift she's kept hidden from the empire for seventeen long years. After a reckless mistake wipes out all the other girls with similar abilities, Sonya is hauled off to the palace and forced to serve the emperor as his sovereign Auraseer.
Tasked with sensing the intentions of would-be assassins, Sonya is under constant pressure to protect the emperor. But Sonya's power is untamed and reckless, and she can't always decipher when other people's impulses end and her own begin. In a palace full of warring emotions and looming darkness, Sonya fears that the biggest danger to the empire may be herself.
As she struggles to wrangle her abilities, Sonya seeks refuge in her tenuous alliances with the charming-yet-volatile Emperor Valko and his idealistic younger brother, Anton, the crown prince. But when threats of revolution pit the two brothers against each other, Sonya must choose which brother to trust—and which to betray.
Title: Burning Glass
Author: Kathryn Purdie
Page Count: 490
Series: Burning Glass Trilogy (#1)
How I Got This Book: PreOrdered
My review:
I just want to start off this review by saying that this book has all of the elements for an obsession. There is romance (and by that I mean I ship the ship so hard.), intrigue, cool magic, a lovable/hate-able antagonist, and a castle. There are betrayals and battles and moments that will make you laugh. I will go into more detail throughout this review, but just know that it was so interesting and wonderful and immersive that I think you should pick it up and get on this bandwagon early because there is NO WAY that this is not the next big thing.
Also, the first part of this review will be spoiler free, and I will let you know when the spoilers will start, so don't worry about being spoiled. 😉
Without further ado, I am just going to jump on in to this review.
So the first thing that I want to talk about is quite possibly one of my favorite elements of the book. And that is the characters. I will go into more specific details in the spoiler section, but basically every single character was so complex and so interesting. Every character had secrets and this compelling nature that forced me to keep reading. Each person that I read about had this signature to them that you always knew who it was talking without reading their name. The main character, as if very apparent from page one and the synopsis (so, it's not even the slightest spoiler), can sense people's auras, which means she feels what they feel. That being said you get to know all of these characters just through the main character. It's very hard to explain without being able to give details just yet, but the characters were all extremely deep and confusing and compelling.
And then there is the main character, Sonya. Again, no spoilers, but I think that she may be my favorite female lead that I have ever read. (obviously discluding Tris and hermione and Luna. Because they are my soul sistas.) She was both strong and weak at the same time. She wasn't unbreakable and I loved that so much! Her power is something that it would seem SO unrealistic IF the main character was just fine with it. She wants to fight against it and take control but she doesn't have a say in the matter. If the pain of hundreds of people is colliding inside of you, you are going to be upset. And I feel so many YA protagonists are just these dense and flat "strong females" and I think that the importance of having weakness is so often overlooked. Long rant short, the balance between strength and pain and weakness in Sonya was spot on in my opinion.
And then there is the romance in this book. I really loved the fact that this book was a romance book (other things happened, too. But there was a lot of romance.) but it was set in a fantasy world. It was a perfect blend of the fantastical, epic elements and the sweet, frustrating, romantic moments. Overall I thought that the mix was very interesting and executed wonderfully.
The next thing that I want to talk about is the use of emotions in Burning Glass. I thought that every time an emotion was described it was very much show don't tell. The descriptions were constantly intriguing and beautiful and brought all of the feelings to life. The way that the characters reacted to the emotions very much came to life and nobody was black and white. Everybody was sad and happy throughout the book. And also a million things in between.
Also, the way that you never truly knew who was feeling what was so interesting. So many twists and shocks and overall exciting parts of the story come of the main character not being able to completely decipher who is feeling what and what she is feeling and not just reflecting.  I loved the way the other characters emotions influenced Sonya and I feel like all of the threads of emotions got tangled into a big giant knot and tied the whole story up in one intertwining and mysterious plot.
Speaking of plot. I felt that this book never dragged. And that is quite the compliment. I almost always find some points of the story inching along. But not with Burning Glass. Everything was constantly compelling the story forward at breakneck speed. This whole book was a wild ride that I will not easily forget. Everything from the romance to the whimsical politics just swept me off my feet from the first page to the last.
Needless to say, I NEED book two as soon as I can get my hands on it. I keep finding myself thinking about these characters and Anton and Sonya and Valko. Pia and the convent and Raina and the whole dark wonder of this story. I constantly found myself defying the pull of sleep to read just. One. more. Page. Chapter. Hundred pages.
I highly recommend that you pick this book up and give it a go because it was so complex and amazing. I am obsessed with it and the fandom needs a name. Like NOW. How about this. Everybody who loves this book is called an….auraseer! I am officially an auraseer. Like, big time. From the very first page I was gasping and laughing and crying. This book is quite simply a beautiful adventure that I do not want a single one of you guys to miss out on.
I had the chance to meet Kathryn Purdie a few weeks ago, and I have a giveaway coming soon for a signed book and some signed swag! So stay tuned for that. Kathryn was an angel and her writing is just as poetic and beautiful as her. So there. Another reason to check out her book.
Basically I am VERY obsessed with this trilogy and I am so excited to experience the releases and the fanart and the whole thing from the start. I love these characters and felt an immediate passion towards them. This world completely enveloped me and just gripped me from start to end. I am so excited to see where this story goes!
That was pretty much it for the non-spoiler section of this review. This is going to be a pretty long review once I add on the spoiler section and that is because I just have SO MUCH TO SAY ABOUT THIS BOOK. I will see you at the bottom of this post if you want to see my overall rating (if that's not obvious already.), goodreads links, the comments and other stuff like that!
Don't forget to give this post a like, a share, and my blog a follow!And also leave a comment telling me your favorite fantasy trilogy, your favorite twisted character, or what you are most excited for about Burning Glass! I look forward to hearing from you!
*SPOILERS FROM THIS POINT ON. DO NOT READ THE SPOILER SECTION IF YOU HAVE NOT YET READ BURNING GLASS OBVIOUSLY. THE SPOILERS ARE NOT ONE BUT MANY*
Welcome to the spoiler section! First off, I am going to talk about some of the characters individually.
Pia: I found Pia to be SO sweet! She brought such a sense of fun to the story and gave a bit of light to the darkness of the rest of the palace. I cried so hard when she died because, as I said above, I just had this instant connection to the characters and finding out that she died was almost like losing a real friend. I just…*dissolves into sobs*
Valko: Oh.My.Bleeping.Goodness. Valko. Valko. Valko. I cannot even form coherent words about how much I loved him and how much I hated him. I LOVED seeing his moments of weakness where he just dissolved into this puddle of sadness and sweetness. And then there were other moments where he was just repulsive. I was getting very strong Tom Hiddleston as Loki vibes. Not the similarities, but the feelings and the actions. He was so twisted and shady and yet there were moments where my heart just swelled for him. And then exploded with rage. He was just an amazing person to read about because he was the perfect antagonist.
Anton: Yet again another character that I could rave for hours about. Because Sonya gets so influenced by the emotions around her there were many moments where I wasn't too happy with Anton, but then there were moments where I was head over actual heels legit in love with him. He was so…perfect. In that dreamy YA protagonist kind of a way. So basically raising my expectations for boys everywhere by tenfold. In a bit I will talk more about my favorite scenes (and he is in most of them) But there were moments when I just seriously adored him.
Tosya: I loved Tosya. So. Much. He made me laugh and cry and I just adored him. He was so funny and so loving and sweet and…and…where can I get one?!
And finally, Sonya: As I mentioned in the spoiler free section,I so greatly admired Sonya's character. She was so thoughtful and smart and I loved those moments when she would get overwhelmed, despite her will not to. She was so complex and strong-willed. I loved how you could never quite tell what she was feeling and what those around her were feeling. It was such a cool concept and it was done so well. Her motivations stayed strong and overall I felt that her POV was the best that this story could have. She fit the world like a puzzle piece and I just…I just…I cannot even form sentences. That's what.
And then we have the way that Sonya deals with all of the emotions and sadness and pain. I especially loved the moments where it overwhelmed her and she simply could not handle it. It was so…realistic in a way. And that leads into my next topic of discussion! My favorite scenes.
So there was the whole start of the book, for one thing. Yulia is dying, and then we really get to see Sonya's powers betray her, then the convent burns, then Anton shows up and just this whole slew of one thing after the other came raining down and it immersed me so well and everything was so vivid and I just could not even deal.
Then, following shortly after that, was when Sonya was riding on the sleigh with Anton. Specifically, however, when they enter the city and Sonya can't take it. I loved how protective and generally good Anton was from the start and I just love him so much and that scene so much.
Next up is a scene that is more of just a few lines. But it is when Tosya (spoke, walked, existed…) and Anton and Sonya were in the parlor and Anton called Tosya out for saying that Sonya basically did parlor tricks or whatever. You know what I'm talking about. But then it went something like this.
"But we're in a parlor."
"Tosya."
"I couldn't resist."
I just love the way that Anton simply said his name. It was so funny and I snort-laughed, not gonna lie.
And then we come to what might just be my favorite scene in the book. When Sonya finds out about Pia's death and she runs to Anton. When she is just crying and healing and her powers are overwhelming her and Anton was just…*feels attack* That scene was so precious and I feel like both characters in the scene were so exposed and so cracked open. And I loved every second of it.
That brings me to my next and almost last topic. Sonya and Anton. I would have just screamed their ship name, but I don't know if they have one yet. If they don't…SANTON. That's the best I've got. But I ship them SO. HARD. That is actually one of the first things that I said to Kathryn Purdie when I met her. I love the way that they act to and around each other. They are perfect in every way and I just love them both so darn much and together they are just a literal OTP.
The last specific thing that I want to talk about is how the beginning of the book mirrored the end of it. Slightly. I noticed this when the peasants were storming the palace and Sonya was almost incapacitated because she was so scared that this is what made her hurt those that she loved the first time. But this time she was able to come into her own and showcase her strength. She was able to stand strong and feed her people and she ended up doing what should have been able to happen the first time.
*THAT WAS THE END OF THE SPOILER SECTION. IF YOU DO NOT WANT TO BE SPOILED YOU CAN READ ON FROM THIS POINT. SPOILERS ARE OVER. SPOILER FREE FROM THIS POINT ON*
Okay, so now that the spoilers are over…I thought that this book was so beautiful. Everything from the relationships to the emotions to each and every character. This was such an amazing story that I feel honored to have read. Everything about the world and plot was so delicate and intricate and expertly crafted. Something about this book clicked for me and I found it so dark and wonderful and bursting with details and intrigue. I highly recommend you pick up this obsessive adventure of a book the next time that you are at the bookstore. Or online if you don't want to leave the house.
I am so excited for the next installments! Also, if you have read this book, leave a review of it on amazon as this helps the author so much in getting her book out there!
That was just about all I had for my review of Burning Glass by Kathryn Purdie. I know that this review was painfully long, but this book excited me so much and I have so much to say about all of its elements! Thank you so much for reading and I hope you enjoyed this review and that you will go pick up Burning Glass immediately.
Don't forget to check out my social media, leave a comment below telling me your favorite part about Burning Glass (please tag your spoilers), give this post a like, and follow my blog by email. Just as leaving a book review on amazon helps authors, following helps bloggers!
My overall rating: 5/5 stars

I will have a new post up soon, so I will see you then!
See YA!
~Jamie