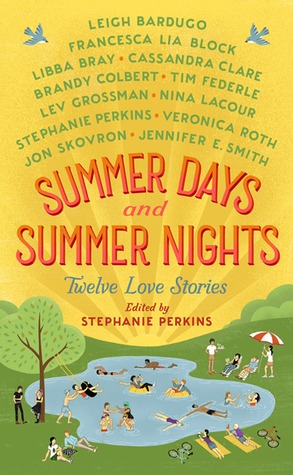 SPOILER FREE!
Description (From Goodreads): Maybe it's the long, lazy days, or maybe it's the heat making everyone a little bit crazy. Whatever the reason, summer is the perfect time for love to bloom. Summer Days & Summer Nights: Twelve Love Stories, written by twelve bestselling young adult writers and edited by the international bestselling author Stephanie Perkins, will have you dreaming of sunset strolls by the lake. So set out your beach chair and grab your sunglasses. You have twelve reasons this summer to soak up the sun and fall in love.
Featuring stories by Leigh Bardugo, Francesca Lia Block, Libba Bray, Cassandra Clare, Brandy Colbert, Tim Federle, Lev Grossman, Nina LaCour, Stephanie Perkins, Veronica Roth, Jon Skovron, and Jennifer E. Smith.
Title: Summer Days and Summer Nights
Author: Stephanie Perkins (And 11 other amazing authors including Veronica Roth, Leigh Bardugo, Jennifer E Smith, and Cassandra Clare)
Page Count: 384
Series: Standalone/companion to My True Love Gave To Me: 12 Holiday Stories
How I Got This Book: Sent by Publisher
My Review:
Note: I was sent this book by the publisher in exchange for an honest review. All opinions are my own. Also, this post is for the official Summer Days and Summer Nights blog tour!!! Be sure to check out the other stops, and pick yourself up a copy of the book! Also, this book is an anthology, which means it is a collection of 12 short stories written by a variety of amazing authors! For the sake of this review, I am only going be reviewing 4 of the short stories today, which are the ones I was most excited for. So read on to see my thoughts on:
Head, Scales, Tongue, Tail by Leigh Bardugo
In Ninety Minutes, Turn North by Stephanie Perkins
Inertia by Veronica Roth
A Thousand Ways This Could All Go Wrong by Jennifer E Smith
Basically the stories by all of my favorite lady authors! I can tell you now that I loved all of them, and would highly recommend as the perfect summer read.
Head, Scales, Tongue, Tail by Leigh Bardugo:
This story was so fun and full of all of the feelings of summer. I loved the freshness of the setting and the spunk of the characters. I also loved how the passage of time was done in this story. So much was packed into those few pages of a short story and it worked so well. The ending shocked me, but I found the whole story so whimsical and exciting. I especially liked the part with the lip gloss getting thrown into the lake. This story made me laugh and mostly just got me super excited for summer!
In Ninety Minutes, Turn North by Stephanie Perkins:
This.Story.Was.So.Cute. I ended up going back and reading the winter short story by Stephanie Perkins (from the first seasonal anthology) to get the full effect (as her summer story is a continuation with same characters) and I ended up having so much fun! These stories kept me up so late just totally into it. I found myself cry laughing so many times. Stephanie Perkins never fails to deliver sparkling wit and never-miss-a-beat humor while also giving an overload of cuteness and swoons. This story was so sweet and funny and I also maybe cried.
Inertia by Veronica Roth:
I have so much to say about this story that I don't even know if I can say anything at all. This is one of those stories that changes the way you see things and the way you act and think. This story was so powerful and beautiful and utterly moving. Her first series (Divergent, obviously) actually changed my life and introduced me to the world of books so I was a little nervous that the newest thing from her (until Carve The Mark in January *all of the excitement*) wouldn't live up to my expectations. But that was not the case at all. This story blew me away and managed to breathe so much life into the characters and the plot and the meaning that I was left crying at 5 am (I couldn't stop reading, okay. Don't judge me.) from how amazing and passionate and astounding this story was. By far my favorite short story ever. And with this anthology of beauty that is saying something. I could ramble about this story for the rest my life because everything about it, from the detailed writing to the incredible unique plot, was phenomenal.
A Thousand Ways This Could All Go Wrong by Jennifer E Smith:
Okay, so we all know that I love Jennifer E Smith. So it's not even a surprise that I loved this short story. It was so summery and fun and it took place over such a short amount of time that it didn't feel squished into the page limit. Also, no spoilers, but I loved how this story brought awareness to the topic of Autism and I felt that it was portrayed with spot on detail. Also, this book does not disappoint with Jennifer's stunning writing and adorable characters.
So that was all for my review of Summer Days and Summer Nights. I hope you enjoyed it, and love these four featured stories as much as I did. Remember, there are 12 stories in the anthology, so you better go check it out for more on the rest of them! Happy summer!
See YA!
~Jamie