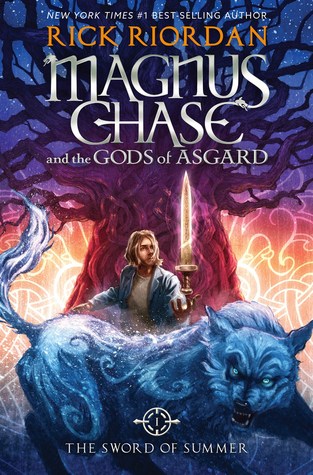 *SPOILERS ARE MARKED*
Description (from Goodreads):
Magnus Chase has always been a troubled kid. Since his mother's mysterious death, he's lived alone on the streets of Boston, surviving by his wits, keeping one step ahead of the police and the truant officers.
One day, he's tracked down by a man he's never met—a man his mother claimed was dangerous. The man tells him an impossible secret: Magnus is the son of a Norse god.
The Viking myths are true. The gods of Asgard are preparing for war. Trolls, giants and worse monsters are stirring for doomsday. To prevent Ragnarok, Magnus must search the Nine Worlds for a weapon that has been lost for thousands of years.
When an attack by fire giants forces him to choose between his own safety and the lives of hundreds of innocents, Magnus makes a fatal decision.
Sometimes, the only way to start a new life is to die . . .
Title: The Sword of Summer
Author: Rick Riordan
Page Count: 499
Series: Magnus Chase and the Gods of Asgard (book 1)
How I Got This Book: Bought
My review:
This book came out at the start of October 2015. It is now the beginning of January 2016. BUT I FINALLY FINISHED IT!
Okay, so before any conclusions get jumped to, I was in a terrible reading slump for, like, 4 months. I am still trying to shake it off completely, but Magnus Chase came out in the middle of said slump. I have been reading it in smaller portions throughout my slump and I finally finished it a few days ago.
By the way, until the section of the post that is marked for spoilers, everything is spoiler free! So welcome one and all…for now. Today I am going to skip my usual babbling and just jump straight into the review.
So, even though this book took me a while to read, I really enjoyed it. I knew I would, because Rick Riordan, duh. But I was a little skeptical, because nothing could ever beat Percy's story. And I was right, Magnus didn't beat Percy, but he was certainly a great addition to the demi-god world. Starting with the characters, I am going to tell you why.
Each character really felt like they had their own personality, and they all really jumped off of the page and truly came to life whenever I sat down to read this book. Magnus himself was a very engaging, and utterly hilarious character. I could really connect to him in many different ways. Even though his situation was so out there, he was still so reachable, which really added a lot to the story. Not to mention that his is sense of humor is basically my sense of humor.
I can't go into too much detail about his friends and enemies because of spoilers, but everyone was so developed and detailed and so, as per Rick Riordan usual, believable.
The plot just continued to move forward throughout the entire book, yet it continued to hold onto that friendly, idle feeling. And I mean that in a good way, because the whole book, despite the dangerous and intense things that were happening, kept this air of lightness. So many things happened that were so classically Rick Riordan, just in the way where only his imagination could have brought this story and it's events to light.
The world of this book felt really rich and sort of helped me understand Norse mythology more. I do still feel a bit confused on a lot of the words and places and gods, but overall I survived reading the book and I understood what was happening, and that's all that really matters.
So basically, if you are a fan of Rick Riordan's books, this will not disappoint, especially because there are some cameos from very well-loved characters from his Percy Jackson series. That is really all I can say as for as avoiding spoilers, so if you haven't read or finished Magnus Chase: The Sword of Summer yet, scroll down to the veeery bottom of this post and be sure to leave a comment telling me your favorite thing about Rick Riordan's other books, what you are most excited for when you read Magnus Chase, or just to say hi!
*SPOILERS ARE EVERYWHERE FROM THIS POINT ON UNTIL THE NEXT BIG CAPS LOCK COLORED NOTICE LIKE THIS ONE. IF YOU HAVE NOT READ THE SWORD OF SUMMER THEN LEAVE NOW BUT NOT UNTIL YOU LEAVE A COMMENT. PROCEED AT YOUR OWN RISK*
Okay, so now that we have all read the book, I can let my spoiler flag fly! So, Magnus Chase. Besides the fact that he looks just like Kurt Cobain, is awesome. He is a classic Rick Riordan hero. He had a hilarious sense of humor, which really shined through the first person POV writing, and he also had the same feel to him as say, Leo Valdez. The way that he was pieced together made him come across as brave, but also scared. Funny, but also sad. Cocky (on the outside) , but also shy.Everything about him felt like he could be a real person. Hurt, yet still grimly sarcastic.
Aside from Magnus, Hearth was probably my favorite character. I loved how delicate and funny and unique his method of speech was. I have never read a book where a character has used sign language as their sole communication source. (Can you tell who hasn't read Soundless, yet? haha) But a deaf elf is not the reason why I love Hearth so much. I loved how he wanted to bring the medieval magic back to the realm of the elves, even though was dis-owned for it. I literally had tears streaming down my face when Magnus heard Hearth's real, full story. I loved how solemn Hearth was at times, but also how funny he was. Like, when Thor was having them eat dinner by the fire and hearth kept siing suuuper sarcastic comments to Magnus and it went completely over Thor's head. But all-in-all, I loved Hearth so much and I continued to love him more and more each page.
And then we have the one and only, super-epic and irresistible, Blizten. I kind of pictures Blitz as Leroy (Grumpy) from Once upon a time.
You're welcome for that image. But I loved Blitz's character and how he defied the dwarf normal and pursued his dreams of being a killer fashion designer. You go, Blitz. I loved how his character came across, from the grumpy attitude at times to the pouty moments to the moments where he just felt so many feels for Hearth, his best buddy. And might I just add that my heart legitimately very nearly stopped beating altogether when i thought Fenris killed him.
And then we have Sam. At times I didn't know what to think of Sam, because she was sending some mixed messages to Magnus for a while, so I couldn't decide whether I liked or not. I do like her, and I like how she sort of doesn't even put up with Magnus. Like, she all but straight up told him "Dude, you are acting like a second grader. Grow the Hel (Get it? Get it?) up."   But anyways, I don't really know what to say about Sam because throughout the book my thoughts on her fluctuated now and then.
And can we just take moment for that sentence at the end of the book where Magnus thinks Sam blushing is cute. Like, could this be the next Percabeth? i can't think of a good ship name for them, but it will happen with time.
Also, because Tumblr has corrupted me, i have to say, at least once in this post, Mango Cheese.
A lot of my favorite parts of this book were some of the most random scenes. So here are a few: When Thor is ranting about TV around a campfire while eating his immortal goats. I mean, that scene was filled with just My. Kind. of. Humor.
Then we have, and I have no idea why this is one of my favorites, but the scene where the duck statues turn out to be the portals to the nine worlds. A part of it that I liked was that it gave you some insight on Hearth and Blitz pre-Magnus Chase. And that is a full series that I want right there.
And we have the giant pigeon that stole every bite of lunch. I just can't even with the giant pigeon.
And as I attempt to conclude this review, I come to the "final" battle with Fenris. I really liked that scene. The whole thing was very, sitting-on-the-edge-of-my-seat and holding my breath. With the Giants and the Magic and Magnus really delving into his inner power, that scene packed a major punch.
And then a few pages later, after Gunilla' (or however you spell it) funeral, when Annabeth and Magnus meet up, I about died. I was up until 1 am finishing this book and (much like my experience with The Last Olympian) that was a not good choice. When Annabeth and Magnus were taking bets on whose life was crazier I was on the verge of hyperventilating with excitement. I hope this means we get a Percabeth crossover in the next book because I would love to see Magnus sizing Percy up and just being like, "Hmm, Annabeth. What even is your taste in men?" And then Percy would crack a Doctor Who joke or, like, second grader humor (my kind of humor, not gonna lie.) and then that would be the start of Percy and Jason 2.0: The Bromance of a lifetime. (Or deathtime…I mean this is Magnus Chase…)
I must say, the epilogue. That epilogue. That. EPILOGUE. LOKI. When the uncle was talking about how amazingly handsome yet terrifying he was my brain just went: Hiddleston.
But yeah, that is going to conclude my review of Magnus Chase. I highly recommend that you read this book because everything about it was perfect! (except the dedication page, because I am the opposite of a Cassandra Clare fan…) The Characters are amazing, the plot is fast moving and unique, and Annabeth is in it. Yes, the Annabeth. (As in second half of Percabeth, Annabeth.) Not to mention the EPIC Hearth/Blitz bromance. Also, if you are a Taylor Swift fan *points to self* there are multiple T Swift references. Which made me super happy! There is so much to say about this book (all amazing things) so I am sure that I am forgetting something!
Tell me in the comments what you thought of this book. What were your favorite parts? Favorite characters? Favorite Loki scenes? ehehehe. (I had to.) Anything that you liked or didn't like. I would love to hear your opinions!
*END OF SPOILERS END OF SPOILERS END OF SPOILERS. MAGNUS CHASE SPOILERS ARE OVER.*
Okay so that was my Magnus Chase review! I hope that you enjoyed it and that you liked it enough to like this post, leave a comment, and subscribe to my blog email to get notified when more posts like this are written and uploaded!
My Overall Rating:

Add this book on Goodreads!
And Don't miss book 2 this fall!
See YA in Valhalla (But I hope you don't die. Just, like, if you come to visit.)
-Jamie