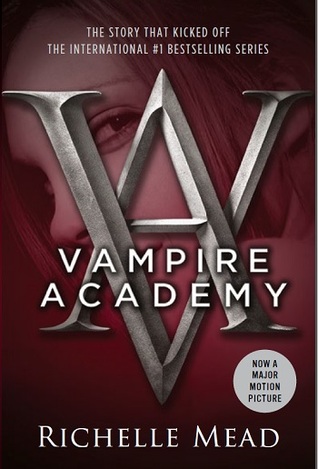 *SPOILER FREE*
Description (from Goodreads):
Lissa Dragomir is a Moroi princess: a mortal vampire with a rare gift for harnessing the earth's magic. She must be protected at all times from Strigoi; the fiercest vampires – the ones who never die. The powerful blend of human and vampire blood that flows through Rose Hathaway, Lissa's best friend, makes her a dhampir. Rose is dedicated to a dangerous life of protecting Lissa from the Strigoi, who are hell-bent on making Lissa one of them.
After two years of freedom, Rose and Lissa are caught and dragged back to St. Vladimir's Academy, a school for vampire royalty and their guardians-to-be, hidden in the deep forests of Montana. But inside the iron gates, life is even more fraught with danger . . . and the Strigoi are always close by.
Rose and Lissa must navigate their dangerous world, confront the temptations of forbidden love, and never once let their guard down, lest the evil undead make Lissa one of them forever . . .
Title: Vampire Academy
Author: Richelle Mead
Page Count: 332
Series: Vampire Academy Series book 1
How I Got This Book: Bought
My review:
This book, trust me on this, is so much cooler than it sounds.
I know that so many people are turned off by the title, Vampire Academy, but that drew me in. I'm one of those people that still loves vampire books. Vampires are just very dark and mysterious and intriguing to me, and I think that part of that is because I haven't read that many vampire books. But ANYWAYS, I really enjoyed this book. Today's review is going to be spoiler free so feel free to stay and chat whether you have read the book or not.
In case you didn't know, my favorite genre of book is basically the kind of book that blends magic and reality, and blurs the line between what is possible in real life and what is possible in books. Like, urban fantasy or magical realism, that kind of thing. but even more specifically, Magical/supernatural boarding schools. And, as a matter of fact, this book is exactly that. So it's really no surprise that I adored this world. Without further ado I am just going t jump right into this review, because if I don't, I will be rambling for the rest of time.
So the first thing I want to discuss about this book is the characters. They were all a lot of fun and I think fit the setting of this novel really well. They were spunky, unique, and fairly grim. I loved the way that the different kinds of vampires and such interacted and how the different ranks of royalty determined the groups within the school. The more insight that I got on each character, the richer the world got, and the more I was invested. And also, the betrayal is strong in this one.
I think that the character that I have the most to say about, is Rose. Rose is the main character, and I didn't really like her all that much. Now, this isn't a spoiler, so bear with me. I thought that Rose was very live-on-the-edge, YOLO kind of a person. I think that she was a little too easily manipulated, and I think that she was very…classic teenage-girl-ish. Now, these aren't bad things. It was fun to read about, to step into her shoes from the comfort of my own home, but I, being the complete and total hermit-like introvert that I am, could hardly find anything to relate to with her. I also really liked Lissa. I feel like had she been the main character, the book would have been very different. I feel like I would have related more to the story, well, as much as you can with a book about vampires going to boarding school, but I feel like it wouldn't have been the right fit for this book. So basically, even though Rose is a little petty for my personal taste in a main character, I feel like she really tied the story together well and provided the perfect POV for this book.
The next thing that I want to discuss about this book is the whole feel of it. Just before I read Vampire Academy, I read Gotham Academy (a DC Comic). After finishing that, I was sort of craving a book that felt sort of eerie and grim and just had this certain feel to it, and I was very happily surprised when this book captured that exact feeling. It was the kind of book that just feels like if the book came to life (in which case I would die immediately) everything would be covered in fog and have this cool light effect everywhere. Make sense? Probably not. Basically this book has a really dark, eerie, dramatic feel to it that I just adored.
Last, I am going to throw in one last attempt to make you go and read this book if you haven't already. And that is that this book was so addictive. It's fun, it's dramatic, and yet it's so fast moving. I read this book in a matter of hours, and then two days later I go to the bookstore because I need to read book two. Basically this book hooks you and keeps you entertained in that light, yet intense way that all books like this one should.
So that was my spoiler free Vampire Academy book review, I hope you enjoyed it! If you
haven't yet read this book, go out and do that right now because it just a really good time. Don't forget to like this post, share it, and leave a comment telling me if you've read this or not. If you have. what is your favorite part of this book? Have read more than just book one in this series? And if you haven't, what are you most looking forward to for when you read this? What are your expectations?
Also, what are your thoughts on the covers? I don't like the original covers, but I actually really like the colors  the big VA. I wish that the old overs weren't over-layed, though.
Please subscribe to my blog by email (to the right of this post and up a little bit) to get notified whenever i put up a new post! Thank you for reading this review, and I hope to see you around on Becoming Bookish again soon!
My overall rating:
Jump straight into the second book in the series, Frostbite!:
I will have another review up soon, so I will see then. Until next time,
See YA!
-Jamie