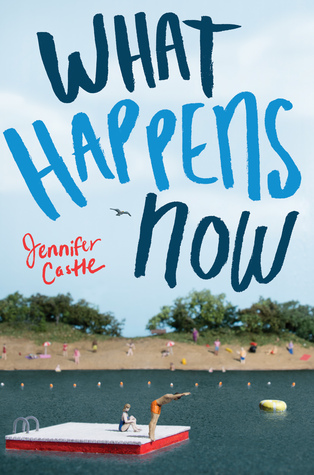 SPOILER FREE
Description (From Goodreads): "I know what it is to want something so badly, you feel like your cells aren't properly bonded together without it.
I also know what it's like to get that something.
And honestly, I'm still not sure which is worse…"
Title: What Happens Now
Author: Jennifer Castle
Page Count: 384
Series: Standalone
How I Got This Book: Sent by Author (THANK YOU SO MUCH)
My Review:
If you asked me what one book I would recommend to someone looking for the perfect summer read, I would throw this book, What Happens Now, at you.
This book was so phenomenal and beautiful. It was quirky and fun but also had meaningful moments and a lot of feels.i can't say too many specifics without spoiling you, but the atmosphere of the lake and the friends and the fandoms, all of it made for this perfect blend of summer. This book was just simple enough to be beautiful, and just complex enough to be captivating. I found it so hard to put down and savored every second of it.
The characters in this story all had so much life and depth. The main character specifically was so many things all wrapped up into one that her POV was perfect for the story. The main "love interest" showed strength and weakness at different points in the story and really…tugged at my heartstrings to say the least. Some of the characters were frustrating, both because of their rash actions and their inability to see HOW PERFECT THEY WERE FOR EACH OTHER. But they flustering in that "I know I see all sides of the plot and you only know your perspective but DON'T YOU KNOW THAT YOU ARE SOUL MATES?" kind of way.
I found myself so wrapped in this story and the atmosphere of this story, and it was so hard to let go when the book was over.
And we haven't even started on the fandoms. The aspect of fandom and cosplay and the beautifully nerd things that my world revolves around were so fabulously done in this story, in my opinion. Something that really made me want to read this book in the first place was the fact that the fandoms were a big part of the story. And it did not disappoint on that aspect. I loved the way that the main character's feelings were portrayed as she started speaking "Silver Arrow (The main fandom in the book) language" with her new friends. That thrill and excitement and also finding it hard to share your thing with another geek.
One thing that maybe seemed a little unrealistic was how Eliza was able to pump out about 3 or 4 cosplays in a week. But, maybe she just has more skill than me. 😉
Another thing I loved seeing in this book was being inside a con. I recently attended my first ever con about 2 weeks ago, when a comic con took place in my town (Fangirl screech), so seeing that nerdy awe for the first time for the main character was just so fun.
The relationship that the main character had with her best friend was really heartwarming, and I really enjoyed the aspect of her best friend going to study abroad. And yes, I would love another book focused around her best friend studying abroad, please and thanks.
The ending…I maybe just wanted one more chapter, to completely wrap everything together and explain a little bit more how everyone turned out at the end, but the way it ended just gave me so many feels. That end scene was.so.perfect, no matter what, though.
Oh, and one last thing. Can we take one moment to talk about how EPIC Camden's house is?
So that was pretty much all I can about What Happens Now without spoiling you on it. I hope you enjoyed this review and a HUGE THANK YOU to Jennifer Castle, for sending me an ARC of the book. I thoroughly enjoyed and completely loved What Happens Now. Be sure to go and get yourself a copy on June 7th! I will see again with another another post soon.
Overall rating: 5/5 stars
See YA!
~Jamie